Spiritual Eldering can be understood as our individual hourly, daily, weekly, response to "what matters most".

What Now?
By Ann Marie
For session five of our Spiritual Eldering series we are reading from Creative Aging: Rethinking Retirement and Non-Retirement in a Changing World by Marjory Zoet Bankson. We are reflecting on, "What Now?"as our group works to inform, ground and guide our aging and sense of future story.
Bankson gave me pause when she used the phrase, "carry the ambitions of others" (Creative Aging p7) as she wrote about many of us "looking for ways to slow down and notice things we have been too busy to consider before." Have I been carrying the ambitions of others or responding to my own inner guide?
Through my life I have trusted my intuition to inform my decisions. Realizing now the "go along and get along philosophy" I was raised with quite likely biased what I believed were truly my intuitive decisions.  My reflections on this reading have me wondering if this trust actually limited my opportunities by not taking time to deeply consider before plunging ahead.
However, when I was offered the chance to take an early retirement I didn't so much stop to consider as try to rationalize with my intuition why I should stay. My intuition was saying, "run"! My practical concerns were financial—stay longer, get a better pension–and challenged my inner guide who was quite adamantly suggesting my call to meaningful life was no longer there. This from one who, for the last 10 years or so of my employment coached job search clients to find meaningful work, not simply time fillers, or bank account assets.
If I didn't accept the retirement offer, one of the recent hires on our team would be laid off. I knew this vibrant, engaged, passionate colleague ran circles around my waning, almost non-existent, enthusiasm for the role and it wasn't fair to me, her, or the company for me to stay. My wisdom insisted now was the time to take time to discern how I really wanted to spend the remaining days of my life.
Entering a transition time, I consciously decided to take time to think. To reflect and consider what I really want to do, what gifts I want to use, and how they could unfold now in my life.  Time with family was key and the freedom to engage with them was thrilling.  Figuring out how to engage with myself is taking somewhat longer.
Sobered by the thought of "ten or fifteen productive years ahead of us" (7), suspecting for many that number is low, but still, the time for going along and getting along is over. It's time to kick into high gear to figure out what my place really is in the greater scheme of things.
Above Image by <a href="https://pixabay.com/users/skeeze-272447/?utm_source=link-attribution&amp;utm_medium=referral&amp;utm_campaign=image&amp;utm_content=580611″>skeeze</a> from <a href="https://pixabay.com/?utm_source=link-attribution&amp;utm_medium=referral&amp;utm_campaign=image&amp;utm_content=580611″>Pixabay</a>
---
Facilitated Small Group Wisdom Circle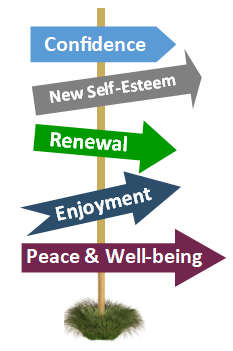 For those who want to live and age in alignment with their purpose.
Learn from and share with others practices to enrich your purpose driven aging.
If you are interested please  contact us

Now is the Perfect Time to Become Me!
Retirement is wonderful. Despite what I see as competing demands on my time necessitating constant scheduling, the past six months have been refreshing.
Everything I am doing is what I think I want to be doing yet the trick remains parceling out 24 hours in a day to incorporate spouse, grandkids, kids, friends, employers that want my assistance, my own interests and the strong urge to sit and do nothing. I find it too easy to over promise and under energize.
This transition requires some thought and planning to avoid muddled messes of all the above. How to sort through this? The books I read, and there are some great ones out there, all tell me this is the time of life for self discovery and self engagement. It is a time as thrilling and exciting as when I turned 18, or when I became a mom. Now, with the wisdom of experience, and fewer responsibilities, I am ready to take up the challenge and opportunity to become who I really am.
This is an exciting new era for me and my goal is to make the best of this time of life.
"Aging is an extraordinary process where you become the person you always should have been."  David Bowie
Invitation to Retirement
One day I was driving to work in the rain. Tired at the start of the day,  hands and hips sore with arthritis, and I saw a new home for sale. I realized in an instant that could no longer be mine. I am through with the acquiring phase of my life.  Done accumulating. But that left me with the question, "what do I dream about now?"
Retirement for me means taking time to find what I really want to do with the rest of my life. Although my actual retirement was spurred along by a funding cut, I was at the place where, despite having meaningful employment, my life wasn't satisfying me any more. In fact, it was stressing me out. I knew a change was imminent and welcomed the opportunity when it presented.
Four months into my new reality I am thrilled to be out of the day to day busyness that employment presented and am now left with a vague anxiety about what I "should" be doing.  This is my work for the next little while, figuring out how to embrace retirement in a way that offers me meaning and purpose.
This is also one of the themes through Conscious Aging,  learning what my soul is saying to me and letting go of things that get in the way.
Stay tuned…